The eastern seaboard of Borneo was charted, though not settled, by the Portuguese in the early 16th century. The area of Sarawak was known to Portuguese cartographers as Cerava, and by the early 19th century, Sarawak had become a loosely governed territory under the control of the Brunei Sultanate.
Sarawak, 1598
According to the Salasilah Raja-Raja Brunei, the Pengiran Muda Tengah Ibrahim Ali Omar Shah, better known as Raja Tengah, accepted the offer by his elder brother, the Sultan of Brunei, to be the Sultan of Sarawak in 1598. He brought along 1,000 warriors and a coterie of nobilities to help him administer the new country.
In 1599, while returning from Pahang, Sultan Tengah's storm-lashed ship ran aground in Sukadana in West Kalimantan, Indonesia. He stayed and married there. On his return to Sarawak, he was killed by one of his followers at present day Kampung Batu Buaya in Santubong.
Sultan of Brunei, Sultan Omar Ali
At the beginning of the 19th century, Brunei's Sultan, Omar Ali Saif-Udin sent Pangiran Mahkota to Kuching to be the Governor of Sarawak. In 1836, the Malays and Land Dayaks (now known as the Bidayuhs) of the Sarawak River basin revolted and proclaimed their independence from Brunei.
The Sultan sent his uncle, Raja Muda Hashim, the Bendahara of Brunei, to put down the rebellion. However, it was unsuccessful as Pangiran Mahkota's earlier appointment as the Governor was not withdrawn, resulting in a chaotic authority. At the same time, the rebellion led by Datu Patinggi Ali against the Brunei levies under Mahkota escalated. It was at the height of this unrest that a British adventurer and an exsoldier James Brooke first arrived in Kuching in 1839.
---
The current State flag was adopted by the State
Goverment of Sarawak in 1988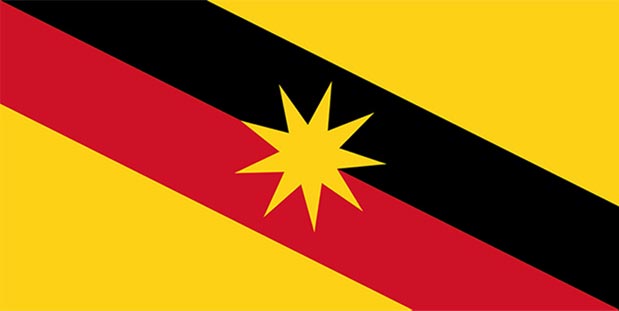 The current State flag was adopted by the State Government of Sarawak in 1988
Red colour symbolises the courage, determination and sacrifices of the people in their tireless pursuit to attain and maintain progress and esteem in the course of creating a model State;
Yellow colour denotes the supremacy of law and order, unity and stability in the diversity.
Black colour symbolises the rich natural resources and wealth of Sarawak such as petroleum, timber etc which provide the foundation for the advancement of her people;
The yellow nine-pointed Star denotes the nine divisions where the rakyat lives in harmony. The Star symbol also embodies the aspiration of the people of Sarawak in their quest to improve their quality of life.
---
The Population and Housing Census is conducted once in every 10 years by Department of Statistics Malaysia. The last Census was conducted in 2020 and the next Census is expected to be carried out in 2030.
Administrative District
Total Population
(Year 2010)
Total Population
(Year 2020)
SARAWAK
2,471,140
2,907,500
Kuching Division
705,546
812,900
Samarahan Division
250,622
293,300
Sri Aman Division
94,774
111,400
Betong Division
108,225
128,000
Sarikei Division
118,758
139,400
Sibu Division
299,768
349,700
Mukah Division
110,024
134,900
Bintulu Division
220,048
266,200
Kapit Division
112,762
134,800
Miri Division
364,561
433,800
Limbang Division
86,571
103,100
Source: Department of Statistics Malaysia
Publication:
1. Population Distribution and Basic Demographic Characteristics, 2010
2. Population and Housing Census of Malaysia (Preliminary Count Report), 2010
3. Population by administrative district and ethnic group, Sarawak, 2020
---
Sarawak is located immediately north of the Equator between latitude 0° 50' and 5°N and longitude 109° 36' and 115° 40' E. It stretches some 800 kilometres along the northwest coast of Borneo, covering an area of 124,449.51 square kilometres.
The State is separated from Peninsular Malaysia by the South China Sea -- a distance of 600 kilometres. It is directly joined to the State of Sabah to the northeast where the Sultanate of Brunei forms a double enclave. Inland, Sarawak borders with Kalimantan, Indonesia.
Topography
Sarawak is divided into three regions -- coastal lowlands comprising peat swamp as well as narrow deltaic and alluvial plains; a large region of undulating hills ranging to about 300 metres; and the mountain highlands extending to the Kalimantan border.
It is home to the Batang Rajang, Malaysia's longest river, which flows from the Iran Mountain range southwest to Kapit, where it turns westward to complete its 563-kilometre course to the South China Sea. The river is navigable for 130 kilometres to Sibu by ocean-going vessels and for another 160 kilometres to the otherwise inaccessible interior by shallow-draft vessels and small boats like sampans.
Gunung Mulu National Park
UNESCO World Heritage Site
Sarawak also has a UNESCO World Heritage Site – Gunung Mulu National Park. Important both for its high biodiversity and karst features, Mulu is the most studied tropical karst area in the world. The Sarawak Chamber, 600 metres by 415 metres and 80 metres high, is the world's largest known cave chamber.
The rainforest of Borneo is acknowledged to be among the world's most distinct and species-rich. About 80 per cent or almost 10 million hectares of Sarawak's total land area is covered with forest (natural as well as secondary forests). The remaining 2.3 million hectares are under settlements, towns, agricultural crop cultivation and native customary rights
Climate and Rainfall
Sarawak has an equatorial climate. The temperature is relatively uniform throughout the year - within the range of 23°C early in the morning to 32°C during the day.
In the highland areas such as Bario, the temperature hovers between 16°C and 25 °C during the day and gets as low as 11°C on some nights.
The northeast monsoon, usually between November and February, brings heavy rain, while the southwest monsoon from June to October is usually milder. The average rainfall per year is between 3,300 millimetres and 4,600 millimetres, depending on locality.
Humidity is consistently high in the lowlands ranging from 80 per cent to 90 per cent.
---
Transport and Infrastructure
Air Transport
Sarawak is serviced by 2 international airports in Kuching and Miri, five regional airports, and a number of smaller airfields built to service the remote population in the interior area to the north east of Baram. The airports provides vital air connectivity in this largest state of Malaysia, bringing about greater mobility of people and goods between cities.
Most major towns and cities offer various modes of public transport services, including buses, taxis and limousine services. Bus services are also available for those travelling within the state as well as international routes to Indonesia (Pontianak) and Brunei.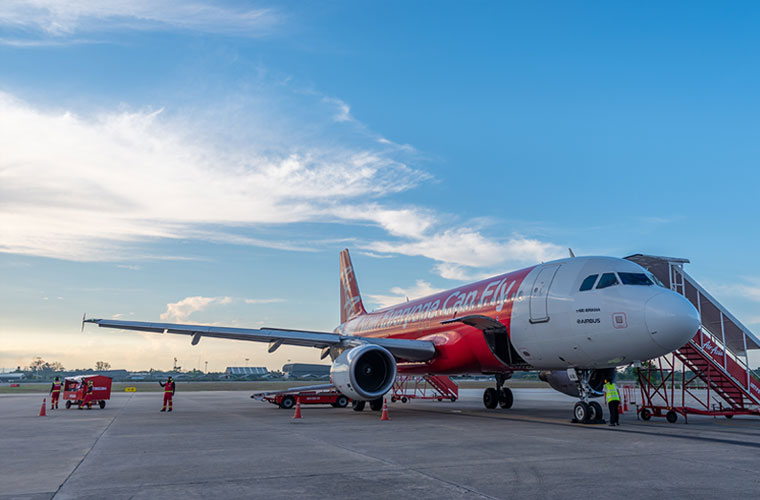 Land Transport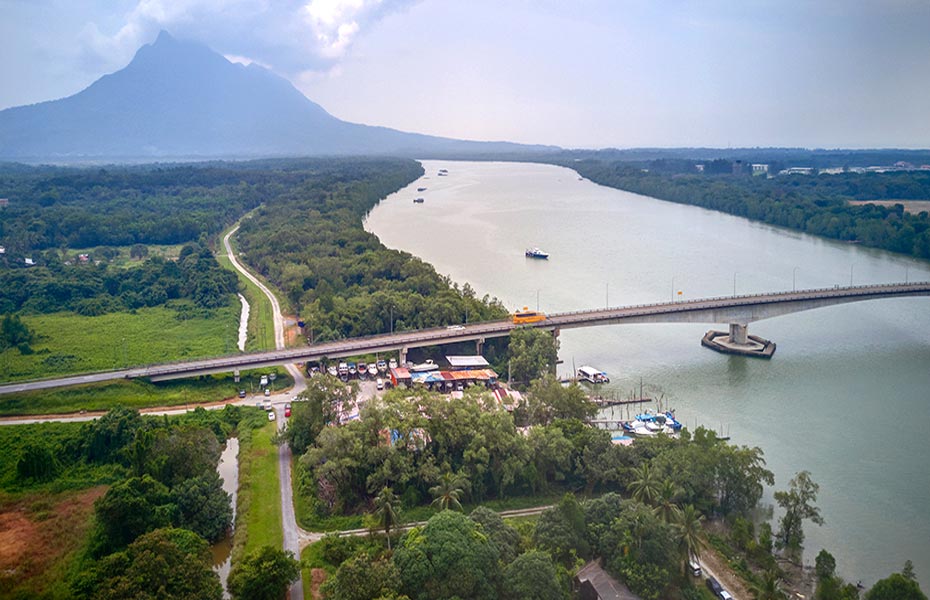 Under the politics of development, Sarawak's extensive network of road and bridges brings people closer to the mainstream of development. Presently, Sarawak has around 30,000km of road. The main road route through Borneo is the Trans-Borneo Highway, which is approximately 2,083 kilometres from end to end connected most of the major town and cities in Sarawak.
Water Transport
Rivers are the lifeblood of Sarawak. Sarawak has a total of 55 navigable rivers with a combined length of 3,300 km. The State's river transport system has great significance to the large section of Sarawak's population who live in the interior and along the coast. Express boat services utilise the many waterways inland to get to rural areas inaccessible by road.
International and Coastal Shipping
International and coastal shipping. Sarawak's main ports are in Kuching, Sibu, Bintulu and Miri. All of Sarawak's ports are well equipped to handle general and bulk cargoes, whether dry, liquid or gaseous. With the exception of Bintulu Port, which is under the Federal Government, all of the State's ports are managed as State Port Authorities.
Water Supply
Water supply in Sarawak is readily available and adheres strictly to the international standards of the World Health Organisation (WHO) for drinkable water.
Besides Sarawak Rural Water Department, Kuching Water Board (KWB) and Sibu Water Board (SWB) are the two Statutory Authorities that are responsible for the management and provision of water supply services to Kuching and Sibu respectively, while State-owned LAKU Management Sdn. Bhd. manages the water supplies to Miri, Bintulu and Limbang.
The Sarawak Rural Water Supply Department (JBALB) is responsible for the planning development, operation and maintenance of water supply services provided to all other areas.
---
Telecommunications
Telekom Malaysia Berhad (TM) -- Malaysia's pioneer telecommunications company -- has provided telephone facilities throughout the State, including most remote villages via fixed line and wireless services.
Most areas in Sarawak also receive cellular telecommunications coverage via the various service providers such as Celcom, DiGi, Maxis, and Tune Talk.
These service providers offer various pre-paid and postpaid packages, as well as international roaming services.
Television
Reception of terrestrial free-to-air channels run by RTM -- TV1 and TV2 -- as well as Media Prima – TV3 and ntv7 -- is available in most major areas on Very High Frequency (VHF) and Ultra High Frequency (UHF).
All-Asian Satellite Television and Radio Operator (Astro) services are available statewide. Malaysia's direct broadcast satellite (DBS) pay television service has over 130 TV channels including 12 high-definition channels and 33 Astro-branded channels. International news stations like CNN, BBC and Al Jazeera English; international sports channels like ESPN and Star Sports; as well as international entertainment and documentary channels are available via this subscription service. All Malaysia's terrestrial television channels – TV1, TV2, TV3, ntv7, 8TV and TV9 – are also available statewide on Astro. There are some 193,000 Astro subscribers in Sarawak.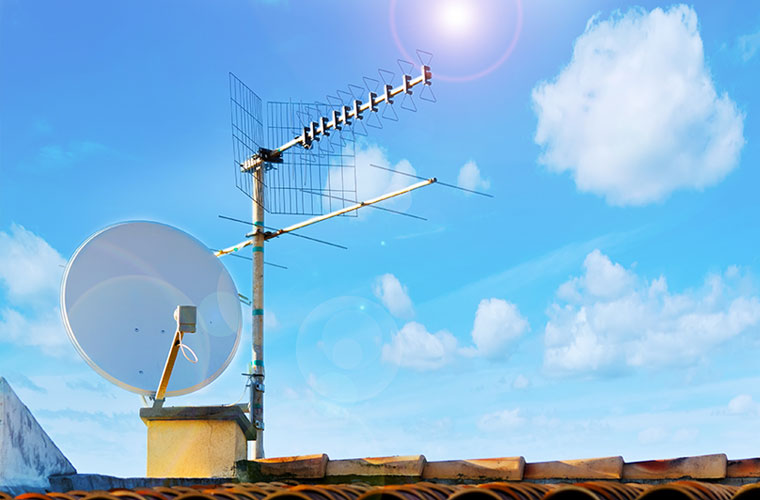 Internet
Streamyx
Malaysia's main broadband provider offers packages of up to 4.0Mbps. High speed broadband under UniFi is expected to be launched in the State's cities by the third quarter of 2011. This will offer speeds of up to between 50Mbps and 100Mbps.
Digi
Broadband and 3G coverage is available in Lundu, Kuching, Samarahan and Miri. EDGE is available in areas like Lundu, Kuching, Samarahan, Serian, Sri Aman, Sibu, Mukah, Bintulu, Miri and its outskirts, Limbang, and Lawas. The speed is up to 3.6Mbps, with average download speeds of 700kbps and upload speeds of 200kbps. Quotas range from 3GB to 16GB depending on the package.
Maxis
HSDPA/3G is available in Kuching, Samarahan, Bintulu and Miri. EDGE is available in areas such as Lundu, Kuching and its outskirts, Samarahan and its outskirts, Sibu, Mukah, Bintulu and its outskirts, outskirts of Sarikei, Miri and its outskirts, as well as Limbang. Speeds range from 384Kbps to 3.6Mbps. Quotas range from 1.5GB to 12GB depending on the package.
Celcom
Offers 3G broadband services to most main areas in Sarawak. The packages range from 384Kbps and 1GB Fair Usage Policy (FUP) limit to 3.6Mbps connection speed and 5GB FUP limit. HSDPA, 3G and GPRS is available in most major centres. GPRS coverage is available in the surrounding areas of most major centres.
deConnexion
Danawa Resources Sdn Bhd uses WiFi coverage based on industry 802.11 b/g standards, which enable users to access the wireless network with similarly equipped notebooks, computers, PDAs and WiFi equipped Smartphones.
Users can access unlimited always-on broadband Internet access anytime and anywhere within deConnexion networks. For instant access, users need to register online.
Miri was declared a WiFi City on Jan 10, 2008. Danawa Resources Sdn Bhd was the first and only Internet Service Provider in Sarawak to offer ubiquitous Wireless Internet connectivity in the resort city through the deConnexion WiFi service. The company has set up WiFi Hotzones throughout the city centre and certain suburbs.
REDTone
Licensed to offer WiMAX services in the State, with coverage available in Kuching and Miri. Fair Usage Policy (FUP) ranges from 8GB to 45GB depending on the package. Downlink speeds range from 512kbps to 2Mbps, while uplink speeds range from 128kbps to 768kbps.
JARING
Offers Flite Wireless, Flite Wired and Flite WiFi services.
Satelite Communications
The launch of Malaysia's first satellite, MEASAT, in 1996 marked Malaysia's entry into space age communications, impacting the communications, information and entertainment sectors. MEASAT is specially designed to provide both state-of-the-art communications and direct-to-user services.
From its orbital slot 91.5 degrees east, MEASAT's footprint covers most of East Asia, reaching over one billion people. The owner and operator of MEASAT, MEASAT Satellite Systems Sdn. Bhd., provides integrated voice, video and data services, greatly increasing Malaysia's capacity to exchange information economically and reliably with all parts of the world.
---
CONTACT US
State Secretary
Sarawak State Secretary Office,
Level 20 , Wisma Bapa Malaysia
Petra Jaya, 93502 Kuching
Tel :082-441957
Fax :082-441677
Email: 555999@sarawak.gov.my

Copyright © 2018-2023 Sarawak Government. All rights reserved.
Disclaimer: The Government of Sarawak shall not be liable for any loss or damage caused by the usage of any information obtained from this portal. Services provided through this portal are subject to the terms and conditions of the respective providers
Best viewed with latest Firefox and latest Google Chrome in 1024 x 768 screen resolution.