Uggah: Over RM1 Bln Paid Out As Dividends By Salcra Thus Far
Date : 17 May 2019
Source : The Borneo Post Online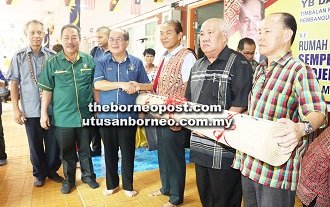 SELANGAU: Sarawak Land Consolidation and Rehabilitation Authority (Salcra) has paid out a sum of RM1.088 billion as dividends so far.
Chairman Datuk Amar Douglas Uggah Embas said the profit put paid to the allegation that Salcra did not bring any benefit at all to participating landowners.
He said this at a meet-the-people session at Rumah Joseph Serang in Sekuau resettlement scheme here yesterday.
Earlier, he performed the 'manggol' (land clearing) ceremony for an oil palm project on an initial 800 hectares of native customary rights (NCR) land involving Salcra and some 440 landowners in Sekuau.
Uggah, who is also a deputy chief minister, said Salcra was now looking for landowners who had yet to claim a total of RM10 million in dividends.
"We have not been able to trace them or their accounts. We are contacting the community leaders and the elected representatives in the plantation areas where this had happened to see if they can trace these landowners," he said.
He found it rather strange that these landowners had not received their dividends when others in the same area had.
"I hope those concerned will check with Salcra. We will keep the money until we find them," he said, adding that he hoped they could be traced as soon as possible.
The Minister of Modernisation of Agriculture, Native Land and Regional Development said that Sarawak at the moment had three land development agencies to open up land – Salcra, Rubber Industry Smallholders Development Authority (Risda) and Federal Land Consolidation and Rehabilitation Authority (Felcra), and the Agriculture Department played a smaller role through the provision of subsidies.
He pointed out that the government would encourage landowners to develop their lands through these agencies to help them earn some income.
He hastened to state that Salcra would not force any landowner to join its projects if they were not interested.
"We will always engage them first to see if they are keen to join us," he said.
Those who allowed Salcra to develop their land would benefit as they would receive titles to their land in the third year, he explained.
"The perimeter survey will be free of charge while the title will be in perpetuity," he added.
Uggah said to-date Salcra had given out 15,000 land titles while 20,000 had yet to be given out.
On another matter, he advised landowners to discuss properly among themselves if they had any land issues among them.
"There is no need for you to go to lawyers as this can be expensive," he said.
When met by the press later, he said besides oil palm, Salcra was now looking at cattle rearing in its plantation areas.
"Currently, we have about 2,000 head growing in our oil palm plantation areas.
"I am asking them (Salcra) to look at the possibility of setting up breeding farms to help build up the state's cattle industry.
"We had also recently bought cattle from Australia and we target to produce 1,000 calves a year," he said.
"They would be used in 'Pawah' or cattle loan system where we would loan a certain number of cattle and for the farmers to return to us, one to one, after six years," he added.
Also present at the function were Assistant Minister of Native Land Development Datuk Roland Sagah Wee Inn and Assistant Minister of Local Government Datu Pengguang Manggil, who are both Salcra directors.
Others present were former deputy chief minister and former Salcra chairman Tan Sri Datuk Patinggi Alfred Jabu, Kapit MP Datuk Alexander Nanta Linggi, Salcra general manager Datu Vasco Sabat Singkang and Tuai Rumah Joseph Serang.
CONTACT US
State Secretary
Sarawak State Secretary Office,
Level 20 , Wisma Bapa Malaysia
Petra Jaya, 93502 Kuching
Tel :082-441957
Fax :082-441677
Email: 555999@sarawak.gov.my

Copyright © 2018-2021 Sarawak Government
Disclaimer: The Government of Sarawak shall not be liable for any loss or damage caused by the usage of any information obtained from this portal. Services provided through this portal are subject to the terms and conditions of the respective providers
Best viewed with latest Firefox and latest Google Chrome in 1024 x 768 screen resolution.